198 Baughman Road Poplarville, MS 39470
Property Details
Categories

Listings, Mark Dale's Listings, Recreation, Timberland

Status

Active, For Sale

State

Mississippi

County

Pearl River

No. Acres

160.85 acres

Price

$417,600

Price Per Acre

$2,610
601.587.4446
601.594.1564
601.587.4406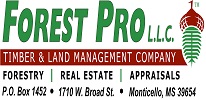 Property Description
Click here for Baughman Road Brochure
"The Baughman Road Tract" at 160.85± acres, is just the property the sportsman who is also a savvy investor is looking for.
The majority of the property is currently planted in one year old, 2nd generation containerized loblolly pine. Hunters know that some of the best hunting opportunities occur looking over a 2-3 year old pine plantation. The trees are still young enough that it will take little time to clear some food plots wherever you may like. Whitetail Deer and Wild Turkey abound on this property and have been subject to very light hunting pressure for the past several years.
The savvy investor realizes the fast growth potential of this professionally planted stand of trees will yield an attractive investment for the future.
Other recreational opportunities include fishing in the pond located on the property, camping in the 1840 sqft camp-house, and ATV riding on the properties trails.
Just the Facts:
Sales Price: $417,600
Tract Acreage: Deeded 160.85 ac, Mapped 160.9 ac, Taxed 160 ac.
Tract Location-
Legal: E2 SW4, W2 SE4, S20, T2N, R17W, Pearl River County, MS + 35' Easement
Address: 198 Baughman Road, Poplarville, MS 39470
Lat: 30.8590558 N
Long: -89.723642 W
Paved Road Frontage: 35' wide & 2845' long easement to tract.
Interior Roads: 9724' Dirt/Gravel
Utilities-
Water: Well onsite
Electric: Coast EPA
Topography: Rolling Hills
Zoning: Rural, Timberland
Ad Valorem Taxes: 2016 - $2,322.73
FEMA Flood Zone: No areas lie within flood zone AE, the 100 year flood zone. MAP # 28109C0255F
History: Timberland
Mineral Rights: Any owned
Streams: None
Soils: Symbol, Name, % Area, Lob. Site Index
MaB, Malbis fine Sandy Loam 2-5%, 0.2%, 90
MaC, Malbis fine Sandy Loam 5-8%, 0.4%, 90
MS, Mclaurin-Smithdale Series, 99.4%, 88
Driving Directions: From Hwy 26/ Hwy 43 interchange, drive North on Hwy 43 for 6.3 miles to Baughman Road. Turn East (Ü) on Baughman Rd. and go 1.5 miles to gravel (easement) access road. Go SSW on gravel road for 0.5 mi. to gate.
Estimated Driving Times to Tract:
New Orleans: 82mi, 1hr 27 min
Baton Rouge: 110mi, 2hr 2 min
Jackson: 121 mi, 2hr 13 min
Hattiesburg: 55 mi, 1hr 4min
Biloxi: 79mi, 1hr 27min
Species Available for Hunting:
White-tailed Deer Wild Turkey
Squirrel Rabbit
Medium of Exchange: Cash and occupancy on closing.
Owner Financing Available? No
Sub-dividable?: No, Sold in it's entirety.
How to view the property: You can schedule a site visit by contacting me at (O) 601.587.4446 or (M) 601.594.1564 to set up a time, OR if you would like to visit the site on your own we request that you fill out a Temporary Access Permit at (http://www.theforestpro.com/pdf/doc_1208180549.pdf) and fax it back to (601) 587-4406.
Timber: Stand#(Symbol)-Type-Acres-Age
1 (PR2)-Pine Regeneration Med. Density-139.8 ac-1yrs (2015)
2 (PS2)-Pine Sawtimber Med. Density-11.0 ac.-49yrs
3 (HS2)-Hardwood Sawtimber Med. Density-9.0 ac. -49+yrs
4 (H2O)-Water-1.1ac -25yr
7/14/2015 Timber Cruise Volumes & Value
Pine Top-wood 99 tons $6/tn $ 594
Pine Pulpwood 278 tons $10/tn $ 2,780
Pine Chip-N-Saw 203 tons $16/tn $ 3,248
Pine Sawtimber 414 tons $28/tn $11,592
Hardwood Pulp 466 tons $5/tn $ 2,330
Gum Saw 6 tons $35/tn $ 210
White Oak Saw 57 tons $35/tn $ 1,995
Yellow Poplar Saw 9 tons $35/tn $ 315
Total 1,532 tons $23,064
Location
Interested In This Property?