11 Boots Lane Sontag, MS 39655
Property Details
Categories

Mark Dale's Listings, Recreation, Timberland

Status

Withdrawn

State

Mississippi

County

Lawrence

No. Acres

102 acres

Price

357,000.00
601.587.4446
601.594.1564
601.587.4406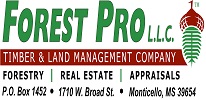 Property Description
CLICK HERE for a property brochure

Located in the Nola community of Lawrence County, "The Boots Lane Tract" at 102± acres, is a multiple use property that is an ideal get-a-way from the city hustle. The 8 acre field is presently used for hay production but could be easily converted to horse pasture, a food plot, or dove field.
The tract also presents a prime timber investment with over 80 acres in a well managed, 24 year old, loblolly pine plantation. For the deer hunter, there are large Water Oaks dominating the 8.1 acre hardwood stand along the properties lone stream.
Installing food plots will be a cinch by clearing the previous log loading sites (>2 ac). The 3BD-1.5BA home on the property is well suited for a hunting camp and the adjoining shed is large enough to hold all your gear.
If you're in the market for a recreational/investment property with camp included, this tract deserves your attention.
Just the Facts:
Sales Price: $357,000, $3,493.15/ac
Tract Acreage: Deeded & Mapped 102.2 acres
Tract Location-
Legal: Lots1-8 Blk 15, & PT NW4, S2 SW4 NW4 PT NE4 SW4, E2 NW4 SW4, PT NW4 SE4, PT SW4 NE4, PT NE4 SW4, S31, T8N, R10E, Lawrence County, MS
Address: 11 Boots Lane, Sontag, MS 39665
Lat: 31°37' 15.72" N
Long: 90°14' 20.91" W
Paved Road Frontage: 985'
Interior Roads: ≈5536' Dirt
Utilities-
Water: Lincoln Co Rural Water As.
Electric: Southern Pine EPA
Topography: Rolling
Zoning: Rural
Ad Valorem Taxes: 2018 - $1525.01
FEMA Flood Zone: No Portions lie within flood zones, MAP # 28077-0175C
History: Timberland
Mineral Rights: None, Reserved
Streams: Small Stream (Dry Creek Headwaters), 2803' frontage.
Soils: Name, % Area, Site Index
Cadeville-Freestone association, hilly, 32.3%, 85
Cadeville and Falkner soils, 4 -8% slopes , 15.0%, 82.5
Jena soils, frequently flooded , 12.6%, 100
Providence silt loam, 2-5 % slopes , 14.2%, 87
Providence silt loam, 5-8 % slopes , 21.8%, 87
Rosella silt loam , 4.1%, 80
Driving Directions: From Hwy 27/ Hwy 84 interchange, drive North on Hwy 27 0.4 miles to Nola Rd. Turn West (L) on Nola Rd. and go 8.4 miles; turn North (R) on Nola-Sontag Rd and go 0.2 miles to tract.
Estimated Driving Times to Tract:
New Orleans: 147mi, 2hr 20 min
Baton Rouge: 136mi, 2hr 8 min
Jackson: 63.3mi, 1hr 11min
Hattiesburg: 67.1mi, 1hr 20min
Species Available for Hunting:
White-tailed Deer Wild Turkey
Squirrel Rabbit
Medium of Exchange: Cash and occupancy on closing.
Owner Financing Available? No
Sub-dividable?: No, sold as is, in entirety
How to view the property: You can schedule a site visit by contacting me at (O) 601.587.4446 or (M) 601.594.1564 to set up a time, OR if you would like to visit the site on your own we request that you fill out a Temporary Access Permit at (http://www.theforestpro.com/pdf/doc_1208180549.pdf) and fax it back to (601) 587-4406.
Timber: Type-Acres-Age
Pine Intermediate High Density-22.8 ac.-24yrs
Pine Intermediate Med. Density-57.3 ac.-24yrs
Mixed Regeneration Med. Density-1.9 ac.– 12yrs
Hardwood Sawtimber Med. Density-8.1 ac.-≈60 yrs
Open– 11.6 ac
Water-0.6 ac
2019 Acquisition Timber Cruise Volumes & Value @5yr avg. price*
Pine Pulpwood 772.0 tons $8.03 $ 6,199.48
Pine Chip-N-Saw 3,355.9 tons $16.61 $55,741.83
Pine Poles 43.0 tons $42.59 $ 1,833.50
Pine Sawtimber 1,302.9 tons $26.89 $35,033.64
Hardwood Pulp 329.6 tons $7.40 $ 2,438.74
Hard Pallet 81.1 tons $24.95 $ 2,024.19
Red Oak Saw 130.0 tons $45.08 $ 5,881.14
White Oak Saw 14.4 tons $39.04 $ 562.18
Total 6,029.4 tons $109,714.70
*As reported by RISI Timber Transaction Price Service from a period of 9/14 thru 9/19.
Disclaimer: Forest Pro LLC is the exclusive agent for this transaction. Neither Seller or Forest Pro LLC nor their representatives warrant the completeness or accuracy of the information contained herein. No representations or warranties are expressed or implied as to the property, its condition, boundaries, timber volumes, or acreage. The map is included to show approximate dimensions of the property and is included only to assist the reader in visualizing the property.
Location
Interested In This Property?